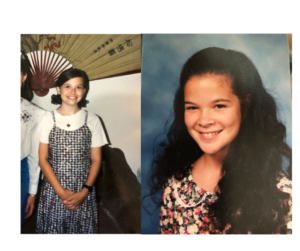 This episode is all about getting older. We talk about how old we are now (34 and 35, respectively), how we feel about being in our thirties, what our bodies are like, what we're afraid of and excited about around getting older, and what advice we'd give our younger selves.  Just look at cute we were back in the day!
What We're Reading and Listening to
Ashley is reading Tanja Hester's Work Optional. The co-host of The Fairer Cents podcast (one of our favorites!), Hester challenges us to think about what we want out of life and helps us manage our money in an intentional way to help get there.
Katey loves a good true crime podcast. Right now she's listening to the Root of Evil podcast, the true story of the Hodel family and the Black Dalia, an unsolved murder from the 1940s.
Kindreds of the Moment
We have to give a shout out to one of our favorite octogenarians–feminist icon and activist Gloria Steinem. We love her piece This is What 80 Looks Like and also these two podcast episodes: her conversation with Ellen Burstyn on Death, Sex, and Money and her conversation with Ann Friedman on Call Your Girlfriend.